As a senior majoring in political science at Howard University, Peter Lubembela was proud to see Kamala Harris, a graduate of his "Bison community," win the vice presidency. He described his fellow Howard University students rushing to the campus yard after hearing the news.
Originally from Tanzania and "coming from a refugee camp, seeing the daughter of two immigrants fight to become the first woman vice president of the United States of America, it's powerful," he said. "… I've been marginalized for the majority of my American experience, so it's just inspirational watching a Black woman really fight for immigrants and for her community."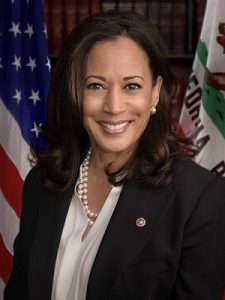 Vice President-elect Kamala Harris
Lubembela spoke on a virtual panel of Howard University scholars and leaders on Tuesday, collectively reflecting on the role of HBCUs in today's political moment, in light of the Georgia Senate runoff election, a breach of the U.S. Capitol by supporters of President Donald Trump and the impending inauguration of President-elect Joe Biden.
"The role of Howard and HBCUs in particular has never been more critical in my opinion," said Dr. Wayne A. I. Frederick, president of Howard University. "Truth is under assault in our country and it is our distinct duty to elevate it and put forward solutions to correct the problems that that very truth is revealing. HBCUs have always been at the forefront of holding America to account and insisting we do better as a nation."
Like Lubembela, Howard University faculty highlighted the symbolism of Harris's win.
It's "a reawakening of the consciousness" that "Black women, women of color, have played very important roles, starting from the home to the community level and into the global space," said Dr. J. Jarpa Dawuni, associate professor of political science and director
Read more: https://diverseeducation.com/article/200896/